These wonderful dogs are all waiting for Furever Homes!
---
Meet Cassanova!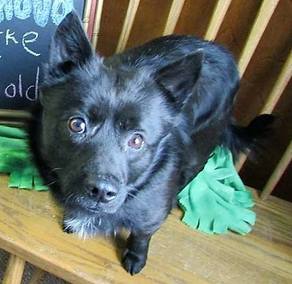 ​Meet Cassanova! Aptly named, this handsome boy is quite the charming love bug! In fact, they don't get any more charming than this Schipperke mix boy. He is new to the rescue, but we already know that he thrives on human affection and will make an excellent companion for some lucky family. Cassanova is around 3 years old, 20 lbs., and loves to play and explore the world on his walks. He is also happy to just chill out and hang with his people after a long day of performing his doggie duties. He loves to cuddle and is a very gentle soul. Just look in those eyes!

Cassanova does well in the company of other dogs. So, he wouldn't mind sharing his new home with a canine brother or sister! He is a great boy and would love a home for the spring!

If you would like to give this boy his second chance at a forever home, contact his adoption consultant, Sherry, at 216-798-9797 or foster4pawz@gmail.com for more information. Cassanova can't wait to meet you!

---
Meet Rocky! (Adoption pending)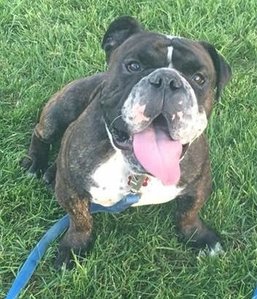 This charming hunk has been given a second chance and is ready to take on the world! But first, he needs to find a forever home and family. And what a lucky family it will be! Between 2 and 3 years old and around 78 lbs., Rocky is a playful Bulldog who has quickly charmed everyone he meets. And this boy is convinced that he's a lap dog too! Who could deny a dog with that handsome face?

In addition to enjoying the company of people, Rocky is good with other dogs and cats too! So, he would love to share his home with a furry sibling or two. He is also working hard on learning his manners and is sure to be a pro in no time. In fact, his new family is entitled to some lessons to help Rocky transition into his new home. Because he has a tendency to exhibit typical bulldog stubbornness, Rocky will do best in a home that is familiar with his breed and is committed to helping him succeed. In return, he will make a wonderful companion for years to come.

If you would like to give Rocky his forever home, contact his adoption consultant, Sherry, at 216-798-9797 or foster4pawz@gmail.com for more information. Rocky can't wait to meet you!
---
Meet Sadie!
​My name is Sadie and I'm a Basenji/Terrier mix! They say that I am around 1 year old and 30lbs. of pure love! Are you looking for that perfect companion to keep you company on your adventures? I am the gal for you! I may not be a pup anymore, but that means none of those pesky puppy behaviors for my new family to deal with. I think it's quite a deal!

I'm looking for a home where I can love and be loved forever and ever. I'll even share it with another dog! In fact, I do best when I have a canine companion or two. Oh, and I love people of all ages. In fact, I love them so much that I get very sad when they leave. I would do best in a family where someone in my "pack" is home most of the day. You see, I'm afraid of being left all alone in the world. I'm longing to find a family who understands my fears and is willing to help me overcome them. I know I can do it! Are you willing to help me?

If you would like to meet me contact my adoption consultant, Jessica, at jessica87hirsch@gmail.com. She can give you all of the details. Can't wait to meet you!
---
Meet Shirley!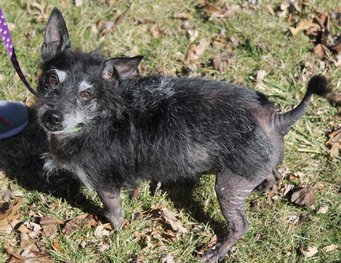 Are you looking for a spirited little gal to add to your family? I'm the one for you! I found myself in a tough spot and needed a second chance. So, the awesome folks at TRI said that I could hang out with them. While I love my foster family, I would really like a forever family to call my own.

They say that I am a 5-7 year old, 10 lb. cairn terrier/chihuahua mix. I'm pretty sure that is a fancy way of saying that I'm beautiful and charming. My hobbies include playing with everyone and everything, chasing my toys (I love them!), and getting cuddles. Lots of cuddles! Above all, I love to sit in my foster momma's lap – and sleep in her bed! I enjoy hanging out with the other dogs in my foster home, so it I wouldn't mind having a canine sibling or two who would keep me company.

One last thing…you might notice that my fur looks kind of funky. Please don't hold that against me. You see, I came to The Rescue Inn after having a long neglected fungal/yeast infection on my skin. I am healing quickly and my fur is already starting to grow back in. However, it will probably never grow back completely. I know that may not turn heads with soft, wavy fur like some other dogs, but I'm hoping there is a family out there who can see my inner beauty.

I can't wait to be someone's best friend. If I could just have a forever home, I promise to be a loving companion for years to come! But don't take my word for it…contact my adoption consultant, Debby, at 440-364-1286 or djg4517@gmail.com and she can give you all of the details. My bags are packed and I'm ready to go home for good!

---
---
Other ways to View and Share our Adoptables!
You can also view, share, and help us publicize our Adoptable Residents by checking them out at

Adopt-a-Pet

and

PetFinder

!