These wonderful dogs are all waiting for Furever Homes!
If you are interested in adopting or want more information regarding
one of the Inn's residents
, please contact the adoption consultant listed in the individual dog's profile. You can also fill out an adoption application and email it to the consultant or to
adoptions@therescueinn.com
!
---
Meet Duke!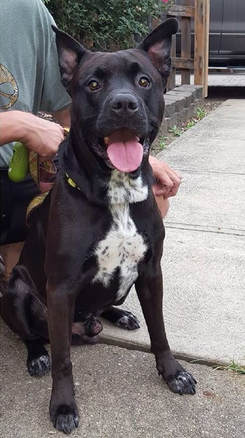 A true canine rock star, this Pit Bull Terrier/American Bulldog mix is looking for a forever family to call his own. Around 3 years old and 50 lbs., Duke is a classic charmer, a quintessential dog, proof positive of his species' place as man's best friend. Still a young man, he is an energetic boy who would thrive in an active home, especially if there was another dog who could be his playmate. Duke goes gaga over the company of people, and can't get enough hugs, belly rubs, and butt scratches. In fact, he has been known to sneakily slip his head under your hand when you are not paying attention, in a feeble attempt to force a head scratch. And it works every time! This beautiful boy is both strong and sensitive – what a great combination! And with such brains and beauty, how could anyone resist that face?

Now Duke just needs a forever home where he will be loved and kept safe. He promises to return the love for years to come. Would you be willing to make his dreams come true and give him a home? If so, please contact his adoption consultant, Heidi, at adelheid99@hotmail.com for more information. One look in those soulful eyes and you'll be hooked!
---
Meet Harley!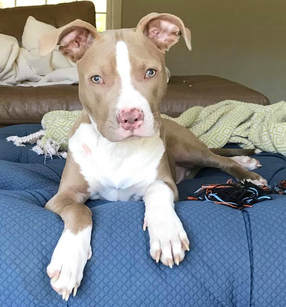 Hello! My name is Harley, and boy do I have a story. Two months ago, I was 10 pounds at 5-6 months old. I was found on the streets of Cleveland, emaciated. I was rushed to the animal hospital where I started a feeding plan in hopes I could gain strength. While there, the kind folks at The Rescue Inn took me under their wing.

I knew my foster momma was anxious to get me home! I did gain weight, and off I went. I had a lot of hurdles to overcome though....and I have! My vet said I endured some sort of major trauma at a young age, because my elbows will eventually be arthritic. I also had a broken hip. A few weeks ago, I had FHO surgery to fix it, and I am doing great! I start swimming next week!

I will need lifelong care in the form of exercise - preferably swimming - for my elbows. I hope that doesn't deter you from considering me! We can swim together! I am only 30 lbs and now 8 months old. I am dog, cat and child friendly. And did I mention super cute??? Email TRI today and tell them Harley asked you to fill out an application....therescueinn@gmail.com.
---
Meet King! *Foster Needed*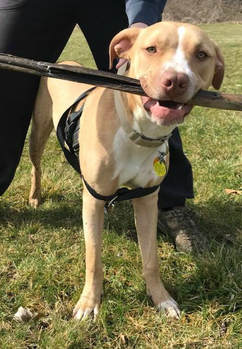 ​Meet TRI's newest resident heartthrob - King! Currently charming his way into the hearts of his foster family and everyone that he meets, King is a 7-8 month old terrier/hound mix boy in search of his very own castle! Weighing in at 45 lbs., King still has some growing to do and is still very much a puppy. With all of that energy, he will need a patient family dedicated to teaching him proper doggie manners. In return, we know he will make a wonderful companion and provide his forever family with endless love and entertainment. If you would like more information on adding King to your pack, please contact The Rescue Inn at therescueinn@gmail.com or 216-369-9141.

**Currently in a temporary foster home, King is in desperate need of a long-term foster home that can help him learn about love and how to have good doggie manners. If you cannot adopt him, but would consider fostering, please contact The Rescue Inn. All food, supplies, and medical needs are provided by the Inn, all you need to supply is the love!
---
Meet Max!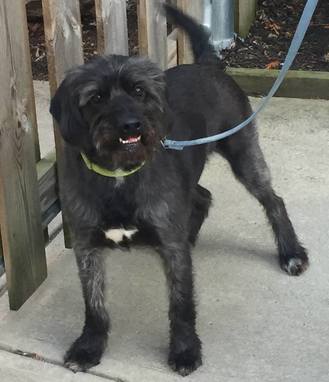 ​Introducing Max! How could anyone resist that handsome face and adorable under bite? You can't help but smile when you first meet this quirky guy. Max found himself in a tight spot with time running out, but thanks to TRI, he has a second chance at life. Now, he is anxious to find a family that will love him forever. We think he might be a combination of Schnauzer and Terrier. Whatever the mix, it becomes completely unimportant when you meet this sweet dog. Max loves every person he meets, and enjoys hanging out with canine companions big and small. So, he wouldn't mind having a canine sibling in his new home!

At 5 years old and around 40 lbs., Max is the perfect age and size – past all of those pesky puppy behaviors, but still young enough to keep up with his family's adventures. He is a champion cuddler and is learning to enjoy life and all that it has to offer! Above all, he is a loving dog who wants to be someone's best friend.

Max dreams of finding a family who will keep him safe and give him the love that he so deserves. In return, he promises to be a loyal companion for years to come.
Would you consider making his dreams comes true? We can guarantee he will be the most unique dog on the block!

If you would like to give Max his forever home, contact his adoption consultant, Debby, at 440-364-1286 or djg4517@gmail.com. Max can't wait to meet you!

---
Meet Nelly!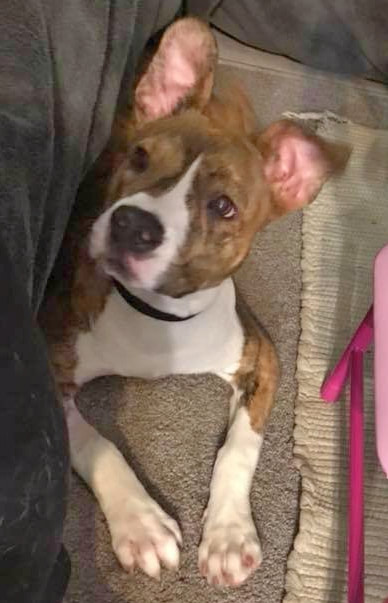 ​Hi there! I'm Nelly and I'm looking for my furever home. Might it be yours? I was in a tough situation and I was hurt pretty bad. But I had some guardian angels watching over me who got me healthy. Then the great folks at The Rescue Inn gave me second chance and said that I could come hang out with them until my family comes along. How cool is that?

So, let me tell you a bit about myself…I am 7 months old and around 33 lbs. They said that I am something called a Pit Bull Terrier/Boxer mix. Sounds good to me! My hobbies include playing with toys, running around the backyard, curling up in a comfy bed and cuddling with my foster family. While I love people, I can be a bit selective about my canine friends. I do ok with dogs my size, but I don't always play well with the little guys. So, I would have to meet any potential siblings to see if we can be friends.

I can't wait to be someone's best friend. If I could just have a forever home, I promise to be a loving companion for years to come! But don't take my word for it…contact my adoption consultant, Heidi, at adelheid99@hotmail.com and she can give you all of the details. My bags are packed and I'm ready to go home for good!
---
Meet Nora!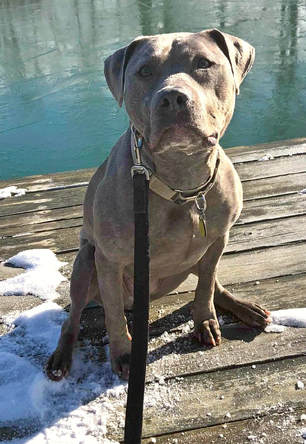 ​This wonderful girl has been given a second chance at life and is ready to find a forever home and family. And what a lucky family it will be! Around 4 years old and 65lbs., Nora is a Staffordshire Terrier/Pit Bull Terrier mix and has charmed everyone she meets. True to her breed, Nora is a wiggly, playful bundle of fun that just loves to be with people. This girl is convinced that she's a lap dog too! And who could deny a dog with that sweet face and gorgeous eyes?

While she enjoys the company of people, Nora can be a bit selective about her canine friends. So, she may need to be an only dog or any canine siblings in her new home would have to be calm and laid back. Nora is working hard on her leash walking and doggie manners. She is sure to be a pro in no time. Nora would do best in an active home where she can be included in her family's adventures. She gets attached to her people and is proving to be quite the Velcro dog!

Nora came to the rescue with some serious back knee issues. As a result, she required surgery on both knees to get her back in tip top shape. She has already had one successful surgery and will have another soon. However, she is ready to start interviewing for her furever family in hopes that they might be willing to help her as she heals.

If you would like to give Nora her forever home, contact her adoption consultant, Lee, at 440-554-3828 or pulver.puppylove5@gmail.com for more information! Nora can't wait to meet her new family!

---
Meet Orville!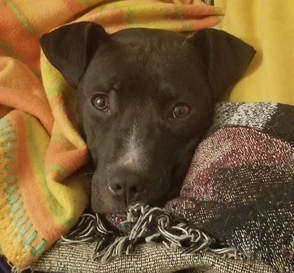 ​I'm Orville! Are you looking for a charming young pup to add to your family? Then I am the dog for you! They say I'm something called a Staffordshire Terrier mix – but I say that I'm just plain cute. I mean, look at these soulful eyes! I am around 4 months old and need to find a forever family who will give me lots of exercise, teach me how to be a good dog, and, most of all, give me lots of love. I have heard of this thing called puppy school and I would love to check that out too! I bet that I would be the star of the class.

I adore all people and love nothing more than cuddling on their laps. I would also be thrilled to share my home with another canine friend or two. You see, I am young and have lots of energy to burn off. A brother or sister would be a great playmate for me! One more thing - I am always up for an adventure! Whether it be a car ride, walk around the neighborhood, or chewing up a rope toy – I'm ready to go! Now I just need a family.

Would you be willing to make my dreams come true and give me a forever home? If so, contact my adoption consultant, Heidi, at adelheid99@hotmail.com more information. She will give you all the details. Can't wait to meet you!
---
Meet Sadie!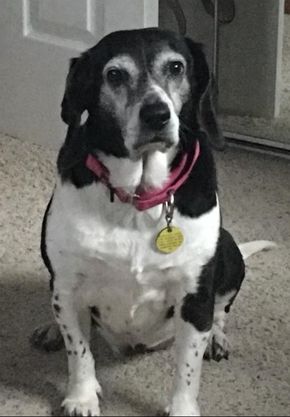 This charming beagle mix is in search of a new home after finding her world turned upside down. At 6 to 7 years young, Sadie is sweet, laid back, likes to cuddle on your lap and sleep (yes, she thinks she's a lap dog!) and loves treats. She has an awesome beagle spirit and is great with other dogs. So, she may be willing to share her new home with another mild mannered canine buddy.

Currently weighing in around 50 lbs., Sadie needs to slim down a little bit – but it's nothing that good food and some regular walks won't accomplish. She is a perfect example of man's best friend and just loves life so much! Sadie loves everyone and will make a wonderful companion, as she's always game for a walk, ride in the car, playtime in the yard, or cuddling on the couch. What more can you ask for?

If you're looking for a dog with a big personality and an even bigger heart, consider giving Sadie her forever home. You can contact her adoption consultant, Heidi, at adelheid99@hotmail.com for more information. Sadie can't wait to meet you!
---
Meet Sniff!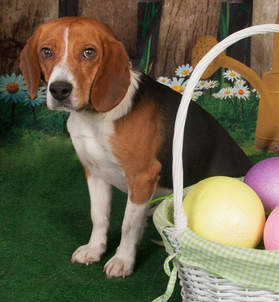 Ever heard that phrase Regal Beagle? That's exactly what charming and handsome Sniff is. Around 30lbs. and 6 years old, he is the perfect age and size for a canine companion. True to his breed, he is spirited and friendly to everyone that he meets. Sniff can be a bit shy when meeting new people and animals, but he warms up to them quickly. This charismatic dude is a true joy of a dog, energetic, funny, and spunky. His eyes follow you everywhere. Sniff is very attentive and watchful but he still loves to curl up after a hard day of performing all of his Beagle duties...ball chasing, investigating, and keeping squirrels out of the yard.

Sniff dreams of finding a loving family to call his own. He'd even be willing to share it with another canine companion or two! He loves playmates! If you would like to give Sniff his forever home, contact Debby at 440-364-1286 or djg4517@gmail.com. She can give you all of the details on this sweet boy!

**Sniff's amazing Easter photos courtesy of Portraits by Martha!**
---
---
Other ways to View and Share our Adoptables!
You can also view, share, and help us publicize our Adoptable Residents by checking them out at

Adopt-a-Pet

and

PetFinder

!