These wonderful dogs are all waiting for Furever Homes!
---
Meet Bella! (Adoption Pending)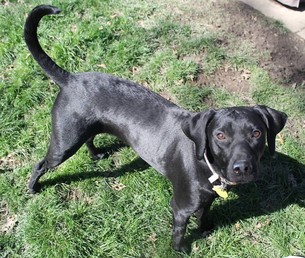 ​I'm Bella! Are you looking for a charming young lady to add to your family? Then I am the dog for you! They say I'm a mix of Catahoula Leopard Dog and Black Lab – but I say that I'm just plain cute! At just 1 year old and 50 lbs., I am a perfect age and size (if I do say so myself). I am past all of those pesky puppy behaviors, but still active enough to accompany my family on road trips in the car or just cuddle on the couch. And boy, do I love to cuddle! I adore people and dogs alike and would even be willing to share my new home with a buddy! Every night I dream of finding a furever home. Might it be yours?

I've had kind of a rough life up to this point, but I'm ready to move past all of that and make a new start. I promise to be a loyal, loving companion if someone will just give me the chance. Might you be willing to make my dreams come true? If so, please contact my adoption consultant, Heidi, at adelheid99@hotmail.com for more information! I can't wait to meet you!

---
Meet Grace! (Adoption Pending)
This beautiful Staffordshire Terrier/Lab mix is looking for a forever home. At just a 5 months old, Grace is such a gentle soul; patiently waiting for someone turn their attention her way. One look in those brown eyes and you just can't resist!
Grace gets along great with other dogs and would thrive with a canine sibling or two who could show her the ropes. You see, Grace does best as part of a "pack" and looks for others to be the leader. Grace would prefer to have a quiet home, as she is very shy with new people and would need some time to warm up. Once she does get to know you, however, she bonds very closely and will become your shadow. Grace is the perfect example of a diamond in the rough and is just waiting for someone to give her a chance to shine.
Grace knows she will make a perfect addition to any family, if she is given the chance. If you would like to give Grace her new home, please contact Lee, at
pulver.puppylove5@gmail.com
for more information!
---
Meet Max!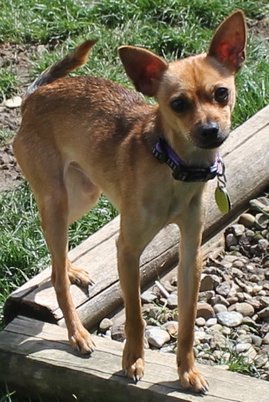 This charming little Chihuahua is looking for his new forever home. He is around 5 years old, less than 10 lbs and just a wonderful little boy. While Max can be quite the energetic young man, he is also very sweet and affectionate -- he loves to plop on your lap and get a good rub. Max is a great little dog with a big dog personality and a great big heart.

Max is a perfect age –past all of the pesky puppy behaviors but still with plenty of energy for playing and exploring the world on walks. He loves people and other dogs too. In fact, he would do best in a home where he has a canine sibling or two who can keep him company and be his playmate. One last detail about our boy…this little one just loves to explore his surroundings and is a bit of an escape artist. As a result, he will need a home with a securely fenced yard. Most of all, Max needs a family who will keep him safe and give him the love that he so deserves. In return, he promises to be a loyal companion for years to come.

If you're looking for a little dog to make your family complete, contact Max's adoption consultant, Debby at 440-364-1286 or djg4517@gmail.com for more information. Max can't wait to meet his forever family!
---
Meet Sadie! **Foster Needed**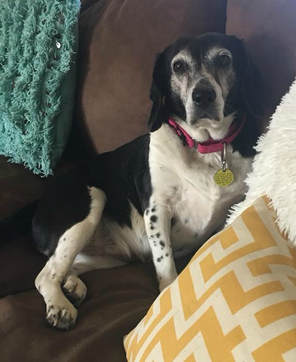 ​My name is Sadie and I'm a Basenji/Terrier mix! They say that I am around 1 year old and 30lbs. of pure love! Are you looking for that perfect companion to keep you company on your adventures? I am the gal for you! I may not be a pup anymore, but that means none of those pesky puppy behaviors for my new family to deal with. I think it's quite a deal!

I'm looking for a home where I can love and be loved forever and ever. I'll even share it with another dog! In fact, I do best when I have a canine companion or two. Oh, and I love people of all ages. In fact, I love them so much that I get very sad when they leave. I would do best in a family where someone in my "pack" is home most of the day. You see, I'm afraid of being left all alone in the world. I'm longing to find a family who understands my fears and is willing to help me overcome them. I know I can do it! Are you willing to help me?

If you would like to meet me contact my adoption consultant, Jessica, at jessica87hirsch@gmail.com. She can give you all of the details. Can't wait to meet you!

**Currently being boarded, Sadie is in desperate need of a foster home where she can be in a calm environment and work on her training needs. If you cannot adopt her, but would consider fostering, please contact The Rescue Inn. All food, supplies, and medical needs are provided by the Inn, all you need to supply is the love!
---
---
Other ways to View and Share our Adoptables!
You can also view, share, and help us publicize our Adoptable Residents by checking them out at

Adopt-a-Pet

and

PetFinder

!