These wonderful dogs are all waiting for Furever Homes!
If you are interested in adopting or want more information regarding
one of the Inn's residents
, please contact the adoption consultant listed in the individual dog's profile. You can also fill out an adoption application and email it to the consultant or to
adoptions@therescueinn.com
!
---
Meet Duke!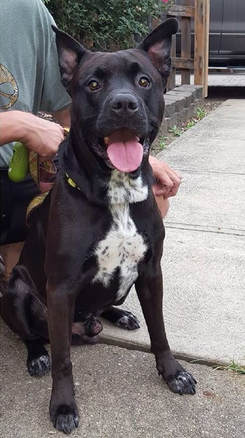 A true canine rock star, this Pit Bull Terrier/American Bulldog mix is looking for a forever family to call his own. Around 3 years old and 50 lbs., Duke is a classic charmer, a quintessential dog, proof positive of his species' place as man's best friend. Still a young man, he is an energetic boy who would thrive in an active home, especially if there was another dog who could be his playmate. Duke goes gaga over the company of people, and can't get enough hugs, belly rubs, and butt scratches. In fact, he has been known to sneakily slip his head under your hand when you are not paying attention, in a feeble attempt to force a head scratch. And it works every time! This beautiful boy is both strong and sensitive – what a great combination! And with such brains and beauty, how could anyone resist that face?

Now Duke just needs a forever home where he will be loved and kept safe. He promises to return the love for years to come. Would you be willing to make his dreams come true and give him a home? If so, please contact his adoption consultant, Lee, at 440-554-3828 or pulver.puppylove5@gmail.com for more information. One look in those soulful eyes and you'll be hooked!

---
Meet Goose!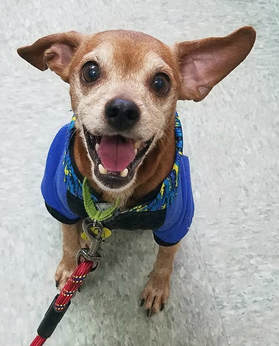 ​Need a copilot for life's adventures? Look no further than our very own little Top Gun – Goose! True to his namesake, Goose is a loyal, adventurous, and highly comedic little dog. A 12 lb. Chihuahua/Terrier mix he would be the perfect choice for someone looking for a little canine companion. At 8-10 years old, some may call him a "senior" dog. But we just consider it "experienced"! You see, he is past all of those pesky puppy behaviors, but still active enough to accompany his family on road trips in the car, play with his squeaky toys, or just cuddle on the couch. And boy, does he love to cuddle! He adores people and is always looking for attention. Other dogs you ask? Well, Goose is a bit selective about his canine companions, but he might consider a canine sibling if they are as laid back and chill, just like him. Goose is learning about this thing called a crate and that it can be a cool place to hang out until his people come back. And when they do come back home? Look out! He launches himself out of the crate and run laps around the house in excitement!
Goose has been with the rescue for quite a while and he is starting to wonder if there really is a family out there for him. In fact, every night he dreams of finding his forever home! Might it be yours? If you would like to make his dreams come true and add him to your "pack", please contact his adoption consultant, Lee, at 440-554-3828 or
pulver.puppylove5@gmail.com
for more information! Goose can't wait to meet you!
---
Meet Fiona! *Adoption Pending*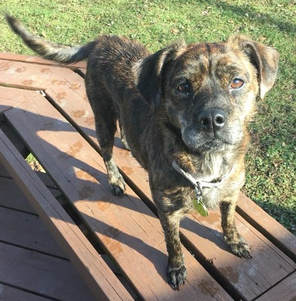 Introducing Fiona! Is she a Terrier mix with maybe some Lab thrown in for good measure? No one can be sure. But what does breed matter when she's got those soulful eyes, fantastic ears and heart of gold? Fiona is about 4 years old and has seen a lot of sadness in her short time. She is ready to move past all that nonsense and start being someone's best friend. At just 20 lbs. of fur and fun, Fiona has the heart and personality of a big dog all contained in a little dog frame. She is learning some basic commands and is discovering these cool things called "toys".

Fiona loves people and other dogs too. In fact, she'd love to have a canine brother or sister in her new home. And she would be thrilled to have a fenced in yard where she could safely run and play. Most of all, Fiona needs a family who will keep her safe and give her the love that she so deserves. In return, she promises to be a loyal companion for years to come.

Would you consider making her dreams comes true? We can guarantee she will be the most unique dog on the block! If you would like more information on Fiona, contact her adoption consultant, Heidi, at adelheid99@hotmail.com. Fiona can't wait to meet you!
---
Meet Nora! *Foster Needed*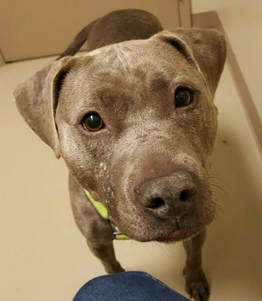 ​This wonderful girl has been given a second chance at life and is ready to find a forever home and family. And what a lucky family it will be! Around 4 years old and 65lbs., Nora is a Staffordshire Terrier/Pit Bull Terrier mix and has charmed everyone she meets. True to her breed, Nora is a wiggly, playful bundle of fun that just loves to be with people. This girl is convinced that she's a lap dog too! And who could deny a dog with that sweet face and gorgeous eyes?

While she enjoys the company of people, Nora can be a bit selective about her canine friends. So, she may need to be an only dog or any canine siblings in her new home would have to be calm and laid back. Nora is working hard on her leash walking and doggie manners. She is sure to be a pro in no time. Nora would do best in an active home where she can be included in her family's adventures. She gets attached to her people and is proving to be quite the Velcro dog!

Nora came to the rescue with some serious back knee issues. As a result, she requires surgery on both knees to get her back in tip top shape. She has already had one successful surgery and will have another soon. However, she is ready to start interviewing for her furever family in hopes that they might be willing to help her as she heals.

If you would like to give Nora her forever home, contact her adoption consultant, Lee, at 440-554-3828 or pulver.puppylove5@gmail.com for more information! Nora can't wait to meet her new family!

**Currently in a temporary foster home, Nora is in desperate need of a long-term foster home that can help her recover until her forever family comes along. If you cannot adopt her, but would consider fostering, please contact The Rescue Inn or Nora's adoption consultant. All food, supplies, and medical needs are provided by the Inn, all you need to supply is the love!
---
Meet Puddles!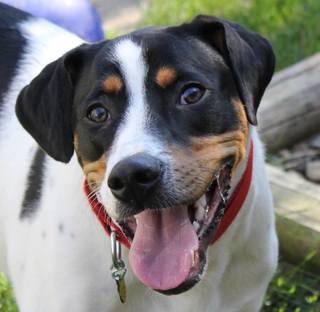 Handsome, charming and adventurous young man seeking his perfect companion. Smart and sensitive with a great sense of humor, he enjoys long walks in the park, sports, hanging out with friends and quiet nights in front of the fire. He is currently longing for someone who shares those same passions and would be willing to open their heart and home to him forever.

Puddles is a 1-2 year old Retriever/Greater Swiss Mountain Dog/Hound mix weighing around 50 pounds. He still acts very much like a puppy, but we understand that it's hard to keep all of that energy contained when there are so many new things to discover. He has done well in training classes learning his manners and how to channel his energy. Puddles loves other dogs and would benefit from having a canine companion to play with. And why the goofy name? Well, that's because he loves the water!

Puddles has been with the rescue quite a few months and we cannot figure out why this awesome guy hasn't found a home yet. He has charmed all of the volunteers with his handsome good looks and sweet disposition.

He is sure to make you laugh and prove to be a loyal companion for years to come! If you would like more information about giving Puddles his forever home, contact his adoption consultant, Debby, at 440-364-1286 or djg4517@gmail.com. Puddles can't wait to meet you!

---
Meet Sniff!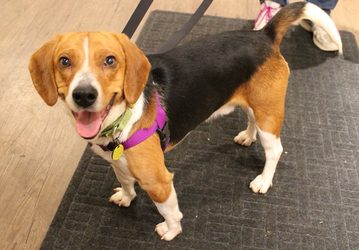 ​Meet Sniff! Ever heard that phrase Regal Beagle? That's exactly what charming and handsome Sniff is. Around 30lbs. and 6 years old, he is the perfect age and size for a canine companion. True to his breed, he is spirited and friendly to everyone that he meets. Sniff can be a bit shy when meeting new people and animals, but he warms up to them quickly. This charismatic dude is a true joy of a dog, energetic, funny, and spunky. His eyes follow you everywhere. Sniff is very attentive and watchful but he still loves to curl up after a hard day of performing all of his Beagle duties...ball chasing, investigating, and keeping squirrels out of the yard.

Sniff dreams of finding a loving family to call his own. He'd even be willing to share it with another canine companion or two! He loves playmates! If you would like to give Sniff his forever home, contact Debby at 440-364-1286 or djg4517@gmail.com. She can give you all of the details on this sweet boy!

---
Meet Sparky!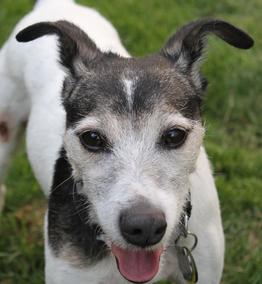 This charming little Jack Russell Terrier mix is looking for his new forever home. He is around 8 years old, only 20 lbs and just a wonderful little boy. While Sparky can be quite the energetic young man, he is also very sweet and affectionate -- he loves to plop on your lap and get a good rub. Sparky is a great little dog with a big dog personality and a great big heart.

Sparky is a perfect age –past all of the pesky puppy behaviors but still with plenty of energy for playing and exploring the world on walks. He loves people and other dogs too. In fact, he would be quite happy in a home where he has a canine sibling or two who can keep him company and be his playmate. But no cats for this guy…he wants to chase them too much! He already knows some tricks (like high 5) and is learning that his crate can be a good thing. And he would love it if his new family had a fenced back yard where he could safely play. Sparky needs a family who will keep him safe and give him the love that he so deserves. In return, he promises to be a loyal companion for years to come.

If you're looking for a little dog to make your family complete, contact Sparky's adoption consultant, Sherry at 216-798-9797 or foster4pawz@gmail.com for more information. Sparky can't wait to meet his forever family!

---
Meet Willow! *Adoption Pending*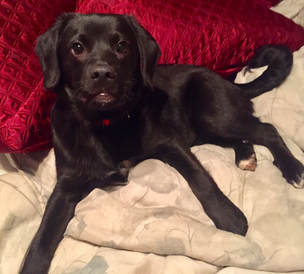 She is a 5-6 month old Pug/Spaniel/Lab mix and is 22 lbs of pure cuteness! She went into her foster home fearful and unsure and after only a few days she has come out of her shell and gained her confidence! She is a bundle of joy and a playful yet calm little pup. She is cautious when meeting new people but quickly warms up. She gets along well with other dogs and loves to play with her four-legged foster friends. Willow loves to play with toys and likes snow and being outside. She loves going for walks but is still learning her leash manners. She is also doing great with potty training! Every day her foster family learning more about this sweetie pie and is seeing Willow blossom into the pup she is meant to be. She has quickly caught on to the routine of the house and really enjoys snuggling with her people! She would make a great addition to any family! If you are interested in meeting Willow and giving this sweet girl a forever, please contact Lisa at lmjolivares@gmail.com.
---
---
Other ways to View and Share our Adoptables!
You can also view, share, and help us publicize our Adoptable Residents by checking them out at

Adopt-a-Pet

and

PetFinder

!